Description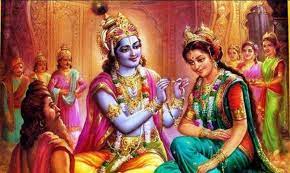 It is a practice in hindu families to conduct in the house of unmarried girls/boys thereby they would be part of Rukmini Kalyanam so that marriage gets settled soon. Also they believe that power of Rukmani Kalyanam conducted by proper Sadhakas can make them get suitable spouses, soon.
Rukmini Kalyana Vrata is performed to get a good spouse.
It is performed by those who are immersed in Krishna Bhakthi for 3 to 4 hours  keeping a kalash in pooja mandir of our house.The process of  Pooja:
Lord Ganesha's puja
Invite Lord Krishna into Kalash and do Shodasha upachara
Chanting 108 names of Krishna by keeping flowers for each name
Special Pooja by learned Purohit
Doopam and Deepam
Naivedya( Anything like milk, fruits)
Finally aarthi.
After aarthi, the story of Rukmini Kalyana in which how Rukmini sent letter to Krishna and how Krishna abducted Rukmini, defeated others and married her is to be read.
 One of the must Kalyana for delayed marriage for both boy and girl.
In  Sydney, Canberra, Melbourne – Australia – Experts with Rukmini Kalyana experience will come to your nominated place and conduct the Rukmini Kalyanam – about 3 hours
You need to arrange for meals to be served to the devotees and experts.